on January 9th 2018, 5:05 pm
Khmaoch Sângkât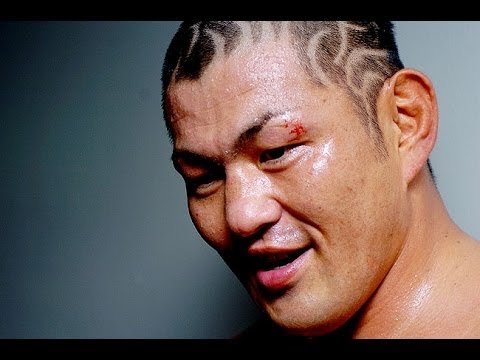 BASIC INFORMATION
Wrestling Name: Khmaoch Sângkât
Picture Base: Minoru Suzuki
Current Nicknames: The Phantom Menace, The Night Terror, The Daemon of Prey Veng
D.O.B: 17th June 1965 (52)
Height: 6', 0''
Weight: 235 pounds
Hometown: Prey Veng, Cambodia
CHARACTER INFORMATION
Disposition/Alignment: Anti-Hero? Monster Heel? I honestly don't know.
Gimmick: A Cambodian Genocide survivor. His father was one of the country's first wrestlers before his disappearance under the Khmer Rouge. In the wake Khmoach has become prone to increasing frequent and severe Khyâl Attacks, a syndrome of Post-traumatic symptoms from mood swings to stiffness, aches, nausea, palpitations, difficulty breathing, dizzyness upon standing, tinnitus, blurred vision and almost nightly episodes of sleep paralysis where he envisions the ghost of his father sitting on his chest. Khmoach is convinced that he is possessed. His symptoms, sympathetic recollections of the suffering that befell his father after he was left behind. Khmoach regularly undergoes "
coining
" and "
cupping
" rituals to alleviate himself, and so regularly bears the resulting marks with him to the ring.
RINGSIDE INFORMATION
Theme Music: 'Dancers To A Discordant System' by Meshuggah.
MOTIVATIONS
There was a point that Khmoach believed that touring in a wrestling promotion was a means to run from the ghosts of his past. When that failed, he at least took heart in believing that pursuing the wishes that his father had for him in life might hold the key to appeasing his spirit and breaking the curse. Now Khmoach is not so sure, but it matters little. The struggle, anguish, and torment; they have defined his life now for so long now that he knows of no other way to live but to haunt this world bound by the dreams and nightmares of the past.
IN-RING INFORMATION
Wrestling Debut: 1986
Tendency to Cheat: If Needed
Favorite Match Types: Ultimate Submission (Submission-only Ironman)
Least Favorite Match Types: Hardcore (weapons and other reminders of the genocide may induce Khyâl attacks)
Favorite Weapon: Fear itself
In-Ring Achievements: May flesh out later.
Common Strikes:
Shining Wizard
Throat Thrust
Kitchen Sink (Running Knee to the Midsection)
Penalty Kick
Dropkick (variations)
Crooked Arm Lariat
Machine Gun Chops
Common Submissions:
Sleeper hold
Cross Armbreaker
Fugiwara Armbar (w/ small joint manipulation)
Kimura Lock (w/ leg trap if possible)
Bow and Arrow
Guillotine Choke
Heel Hook
Omoplata
Single Leg Crab
Other Common Moves:
Sitout Powerbomb
Arm Wringer into a Rolling arm snap
Running Neckbreaker Drop
Brainbuster
Single Leg Giant Swing
Dragon Screw Leg Whip
Uranage (including backbreaker variation)
Signature Moves:
1. 'The Ghost Pushes You Down' - Inverted headlock takeover into a grounded sleeper
2. 'Thousand-armed Bodhisattva' - Multiple open palm strikes.
3. 'Manji-Gatame' - Octopus Stretch, Avalanche Variation applies
4. 'Various rope-trapped submissions' - Triangle Choke, Guillotine...etc
5. 'Running Amok' - Basically a Hulk-Out sequence  after suffering a Khyâl attack. Khmoach will assault anyone around him (including friends or the official) beating down anybody who does not quickly get out of his way with wild strikes. Often a prelude to the 'Khyâl Cap' Dragon Screw Neck Whip.
6. 'Young Boy Killer - Bicycle/Brogue Kick. Used primarily on Young Boys while entering the ring. Or on younger opponents considered to be mere Young Boys. (If somebody else writes any of my matches, pls wait to use this until I meet Kai Stephens in BITWS)
Finishing Moves: Maximum three (3) and one (1) optional ultra-finisher (UF)
1. 'Khyâl  Cap' - Dragon Screw Neck Whip
2. 'Attachment Demerit' - Rolling Butterfly Lock w/ body scissors
3. 'Planting The Kapok Tree' - Gotch Style Piledriver
NOTES
~If he gets your back, man's going for a submission. None of that german suplex bs pls.
~No pyro pls, it fucks wit his PTSD.
on January 19th 2018, 8:32 pm
Video links added for cupping/coining rituals

Permissions in this forum:
You
cannot
reply to topics in this forum