on March 24th 2018, 2:43 am
A R I A | J A X O N.

BASIC | INFORMATION.Wrestling Name:
 Aria Jaxon.
Government Name:
Aria Marie Jackson-LeBeau.
Birthday:
 January 28, 1995.
Picture Base:
Sasha Banks.
Current Nicknames:
"Fantomukuīn ("The Phantom Queen")", "The First Lady of The Phantom Troupe", "The Queen of SSW",  "Your Husband's Favorite Wrestler". 
Height:
Five feet, four inches.
Weight:
One-hundred and fourteen pounds.
Hometown:
Los Angeles, California.
Current Location:
Los Angeles, California/Tokyo, Japan.
CHARACTER | INFORMATION.

Disposition/Alignment:
Conceited, self-centered, trash-talking heel. Neutral evil.
Gimmick:
 With the world at her back, Aria Jaxon was able to ascend to heights that few upstarts ever had. She'd given her life to this sport. She'd gone about doing everything the right way. She smiled for photo ops, kissed babies, the whole nine yards. As time wore on, though, the journey changed her. She saw that in spite of always trying to do the right thing, she didn't always receive goodwill in return. She lost one of her dearest friends way too soon, was stabbed in the back by other friends more than once, and had to deal with naysayers at every turn calling her cocky or fake for daring to believe in herself. Perhaps more than anything, she'd grown tired of people mistaking her kindness for weakness. That'll never happen again. As hard as she's worked, she doesn't just deserve success and accolades; she deserves an easy ride, and the only way she can get it is by not giving a fuck. She's over the heartache and the drama. She doesn't need the crowd to cheer her on anymore. All she needs is her new brand of ruthlessness and a bunch of like-minded allies in the form of The Phantom Troupe. The path she carves to the top of SSW will be paved with gold and littered with the shattered hopes and dreams of everyone who tried to stop her. Oh, there will be blood on the throne -- but none of it will belong to The Queen. 
Ring Attire:
Exactly what her pic base wears. Colorful combos of short-shorts and bra tops with cut-out sleeves and matching kickpads. Also various kinds of custom-made jackets, usually black or white, blinged out, and adorned with the logo of The Phantom Troupe across the back. She also wears a black armband with Brody Sparks' logo on her left arm. She dons her engagement ring and tapes over it, and often makes a concerted effort to bust people open with left-handed punches. 
Segment Attire:
Still, essentially what her pic base wears. If there's little to no possibility of a situation breaking down, she'll usually opt for bodycon dresses or skirts and expensive designer heels. If she thinks she might have to throw hands, run, or do anything physical, she'll likely opt for high-waisted jeans, crop tops, and expensive sneakers or boots. 
RINGSIDE | INFORMATION.

Theme Music:
"Freedom" -- Beyonce & Kendrick Lamar.
Entrance Description:
 As the chorus of "Freedom" tears over the PA system, emphatic boos from the crowd kick up right on cue. A smirking Aria Jaxon saunters out onto the stage, lowering her signature shades on the bridge of her nose to shoot condescending looks at members of the crowd. Standing at the top of the ramp, she turns around briefly in a cocky manner, her arms outstretched as she shows off The Phantom Troupe's logo on the back of her jacket before she makes her way down the aisle. She'll work the crowd as she makes her way to the ring, waving off members of the audience with a hand, or smiling in the most artificially sweet way possible. She hops up onto the ring apron, dropping her jacket and glasses at ringside before entering the ring.
MOTIVATIONS.

What are your character's motivations for competing?:
Breaking necks and cashing checks. While Aria is a wrestler first and foremost, she's also been groomed to be a star for quite some time -- and so that is what she became. Good looks and sparkling charisma are what bolster her brand, and being a sought-after talent is what pays her bills. She's grown accustomed to living a luxurious life, and she intends for that to remain the case. Still, she is equal parts glitter and substance, and she's recognized as one of the best wrestlers in the world for a reason. You don't just prove that by winning matches and titles. You also prove it by leaving every defeated opponent as a living memento of what you're capable of, and so she will. She'll pin, knock out, and tap out anybody she needs to in order to secure her top spot and a windfall of a payday.
Tendency to Cheat:
Often.
IN-RING | INFORMATION.

Wrestling Debut:
November 2011.
Favorite Match Types:
Last Man Standing, because her resilience is a major strong point of hers and it's almost ridiculous how much punishment someone this small can bounce back from. It also enables her to think outside of the box, take liberties, and use weapons.
Least Favorite Match Types:
There are no least favorites. She can do anything.
Favorite Weapon:
Light tubes or taser brass knuckles, both purple.
In-Ring Achievements:
1x (and inaugural) SSW Puroresu Heavyweight Champion, 1x EAW Women's World Champion (longest-reigning and most defenses), 1x EAW Vixens Champion, 2015 Empress of Elite, 1x Young Lions Cup holder, 2016 & 2017 Female Elitist of the Year.
Common Moves:
001.
Butterfly suplex, transitioned into a cross armbreaker
002. Double-knee backbreaker, to a rope-hung opponent
003. Grounded knee strikes
004. Grounded wristlock, followed by kicks to an opponent's face
005. Guillotine choke DDT, followed by punches
006.
Hair-pull curb stomp
007. Kneebar, sometimes transitioned from a rolling single-leg slam
008. Kneeling figure-four leglock, followed by elbow strikes to a trapped opponent
009. Matrix evasion
010. Multiple kick variations
--Penalty
--Roundhouse
--Running split-legged Yakuza
--Scorpion
--Spinning heel
011. Rope-hung triangle choke
012. Sliding knee strike, to the back or midsection of a seated opponent
013. Snap dragon suplex
014. Tilt-a-whirl dropped into a back kick, facebuster, or Fujiwara armbar
Signature Moves:
001.
Absolute Monarchy 
(Step-up jumping knee strike, sometimes preceded by a running start)
002. Sparks Fly (Diving somersault neckbreaker) -- adopted from and used in tribute to Brody Sparks
003.
Ultraviolet 
(Hurricanrana driver)
Finishing Moves:
001.
187
(Reverse STO, followed by a Koji clutch)
002.
Purple Reign 
(
Bicycle superkick
, sometimes transitioned from a wrist-lock into a short-range version)
UF.
Midnight Zero
(Running, jumping, springboard, or handspring cutter transitioned into a dragon sleeper)
RECORD.
[7-1-1]
NOTES.
Aria's biggest pitfall from an in-ring standpoint is that she can be rather emotional, and that manifests it in a few forms. Namely, it's usually either getting angry or frustrated when things don't go her way, taunting her opponents one time too many, or selling them short. 
on March 24th 2018, 9:23 am
Yesssss Gurl!
Welcome back to SSW!
_________________
"You're all prisoners. What you call sanity, it's just a prison in your minds that stops you from seeing that you're just tiny little cogs, in a giant absurd machine. Wake up! Why be a cog? Be free, like us. Just remember, smile. Oh! Time to go, but don't worry, we'll be back very soon. Hang onto your hats, folks, cause' you ain't seen nothing yet!"


--- Jerome Valeska.

on March 24th 2018, 12:27 pm
on June 16th 2018, 2:07 pm
Aria \"The Loser" Jaxon Says wrote:

NOTES.

Aria's biggest pitfall from an in-ring standpoint is that she can be rather emotional, and that manifests it in a few forms. Namely, it's usually either getting angry or frustrated when things don't go her way, taunting her opponents one time too many, or selling them short.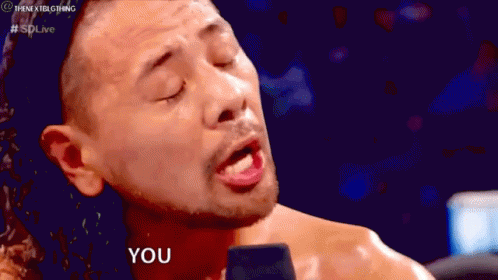 Permissions in this forum:
You
cannot
reply to topics in this forum