on May 4th 2018, 10:00 pm
BASIC INFORMATION
Wrestling Name: Shaun Till.
Picture Base: Shane Strickland.
Current Nicknames: NEVERLAND, Lost Boy, Caterpillar.
Height: 6'0''.
Weight: 191lbs.
Hometown: Los Olivos, California.
CHARACTER INFORMATION
Disposition/Alignment: Tweener.
Gimmick:  In a world full of anger and hate, Shaun Till often wonders why times couldn't be more simple, like when we were kids. This led Till down the rabbit hole of the Peter Pan story, fascinated by the lore. However, just like in the story Peter Pan however, things may not be as they seem on the outside. Shaun very well can be the villain in this story after all, while he has good motives, seeing others being hateful drives him to do things he typically wouldn't do. Is he the hero or the villain? That is for you to decide as he journeys through his metamorphosis.
RINGSIDE INFORMATION
Theme Music: 'Caterpillar' by Royce da 5'9" ft. Eminem, King Green.
MOTIVATIONS
What are your character's motivations for competing?: Shaun wants the hate to stop, the anger for one another to end. However he is still learning the best means to do this, on his journey he is sure to make questionable decisions, even more likely to make regrets. 
Tendency to Cheat: Never.
IN-RING INFORMATION
Wrestling Debut [Optional]: 2011. 
Favorite Match Types: Ladder Match; Two out of Three Falls Match; Ironman Match.
Least Favorite Match Types: Hardcore Match.
Favorite Weapon: Ladder.
Common Moves:
Axe Kick.
Backhand Chop.
Bicycle Kick.
Bicycle Knee.
Cross-Legged Suplex.
Dragon Whip.
Forearm Strike.
Impaler DDT.
John Woo Corner Kick.
Kneeling Spiked Baby Hurricarana.
Low Kick To Calves.
Low Kick To Thighs.
Open Palm Strike.
Rolling Backhand Chop.
Rolling Savate Kick.
Rolling Wheel Kick.
Sliding Clothesline.
Sliding Forearm.
Snap German Suplex.
Snap Suplex.
Springboard Front Dropkick.
Superkick.
Signature Moves:
Captain Hook (Middle Rope Roll Through Codebreaker)
Fly Me To The Moon (Diving Meteora)
Metamorphosis (Blue Thunder Bomb)
NEVERLAND (Running Cutter to kneeling opponent)
Tick Tick Tick Tock (Stalling Brainbuster onto the Knee)
Finishing Moves:
Think Lovely Thoughts (Diving Double Foot Stomp to a seated opponent's chest)
Till' Death Do Us Part (Pumphandle Half Nelson lifted and dropped into a Death Valley Driver)
Tinker Hells Bell (Running Flip DDT)
on May 4th 2018, 11:16 pm
WELCOME TO THE FAMILY THAT IS RONIN!! 
_________________
"You're all prisoners. What you call sanity, it's just a prison in your minds that stops you from seeing that you're just tiny little cogs, in a giant absurd machine. Wake up! Why be a cog? Be free, like us. Just remember, smile. Oh! Time to go, but don't worry, we'll be back very soon. Hang onto your hats, folks, cause' you ain't seen nothing yet!"


--- Jerome Valeska.

on May 4th 2018, 11:19 pm
Tarah Nova wrote:WELCOME TO THE FAMILY THAT IS RONIN!! 
Here to help the family!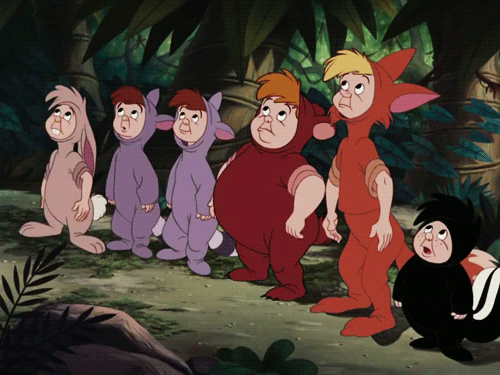 on May 4th 2018, 11:57 pm
Knew from the second you ran this by me that this signup was gonna be lit. This signup is wonderful from top to bottom. Can't wait to see what you do here!
on May 6th 2018, 11:26 am
Great sign-up, great song, awesome gimmick and move names. 

Lovin it.

Permissions in this forum:
You
cannot
reply to topics in this forum